Post by Gabrielle on Jan 8, 2010 3:00:06 GMT
General Tips
- First and foremost, check out the tutorial on Babyz.org!
www.babyz.org/
- When making tattoos, it is important to leave adequate space around the image (magenta) so that there is less chance of it repeating in the paintball. If you do find the tattoo repeating, try making the paintball smaller.
- If part of your tattoo is cut off, try making the paintball bigger. If it then repeats, go back to the smaller size but move the tattoo in psp to reposition it.
- Make sure the .bmp is saved as 256 colours.
- To make tattoos that look like freckles, such as a freckle shaped like a star, just make a tattoo in the colour of your baby's freckle, and from there it's just like hexing tattoos.
------
Tutorials
Hair Tattoos
Author: GC
Obviously it all depends on how large you want the tattoo to be, so for the bow on Candy's new girlie I made a .bmp 50 x 50 pixels and stuck the tattoo right bang in the center, making the background transparent by colouring it magenta...
63 5 -40 -50 46 244 0 0 0 -1 125 8 0 6 -1
I usually paste this code above the hair code (if hexing a baby from scratch else this will mess up any linez styles on an existing baby!), and adjust the number shown in red until all of the tattoo is showing, a larger number obviously for a larger tattoo.
Change the number shown in blue to whatever texture number your tattoo .bmp is.
The number shown in green can be used to bring the tattoo forward for example - if a babyz has lots of hair the tattoo may not show through...we can fix this by making this number smaller, bringing it forward from the hair.
Also in order to fix the tattoo into position we can follow the same procedure as stopping a babyz tummy from rotating - as long as you know the addball number you'll be fine, just add it beneath the [No Texture Rotate] line in LNZ Pro. If you pasted the code above the hair as I suggested then the ball number will be 138.

This can be tricky and alot of trial and error is involved...sometimes it's just best to have a go and find your own way but if you have any more questions I'm here!
--
Non-Rotating Hair Tattoos
Author: Stevie
A lot of people are asking about this and it's really simple.
Add this the code under eyelid color:
[No Texture Rotate]
138
Change the 138 to whatever ball number you're texturing with the tattoo.
------
Example Paintball to Use for a Tattoo
Paste this code under the last line of the paintballz:
Belly:
4, 70 -.2, -.5, -.6 47 -1 0 -1 -1 5 0
Cheek:
8 40 0.20 0.10 -0.99 44 -1 0 -1 -1 4 0
Explaining the Belly Tattoo (is the same for the cheek)
4 is the part of the body, i.e. the belly, 70 is the size, -.2, -.5 and -.6 are the positioning, 47 is the colour, which you don't need to worry about, -1, 0, -1, -1 just ignore and 5 is the texture. Change 5 to wherever the tattoo bmp is on your texture list at the top of the file.
------
Multiplying/Rotating Tattoos
Are you using an add ball or a paint ball?
- If you are using a paintball and it is multiplying/repeating, you need to make your paint ball smaller. You may also need to reposition the tattoo in psp.
- If you are using am addball, you need to make the ball you are using non-rotating. For example if you are making a hair tattoo and are using addball #138, you would add 138 to your non-rotaing list is:
[No Texture Rotate]
4
138
That should keep it in the same place once you've got it set.
------
Ear Tattoos
When putting tattoos on the ears, don't put it on the actual ear itself but add an addball and position it on the ear (as if you are doing a normal earring) but make the ball larger and put a bmp on it (change the outline to -1 also rather then 0 or 1).
------
Hand Tattoos
If you want to put a tattoo on your babyz hand, position it on one of the addballz below
45, 18, -1, -1, -1, 0, 8, -1 //88 palm1L
45, 18, -1, -1, -1, 0, 8, -1 //89 palm1R
45, 18, -1, -1, -1, 0, 8, -1 //90 palm2L
45, 18, -1, -1, -1, 0, 8, -1 //91 palm2R
45, 18, -1, -1, -1, 0, 8, -1 //92 palm3L
45, 18, -1, -1, -1, 0, 8, -1 //93 palm3R
Make sure you add that ball number to the non-rotating list!
------
FAQ:
My hair tattoo is in place but it has an outline! What do I do?
Change the outline thickness to -1.
What do I do if the tattoo doesn't show up or makes a baby's rosie disappear?
Make sure the baby's tattoo code matches up with the tattoo .bmp. Here is a sure-fire code: 4 50 0.4 .15 -1 44 -1 0 -1 -1 2 0
I gave my kid a non-rotating belly and now her tattoo rotates! Help!
You have probably added a new [No Texture Rotate] to the file, so that it has two. Look in the file and put all No Texture Rotate numbers under one, deleting the other/s
------
Tattoos By MembersLibby's Tattoos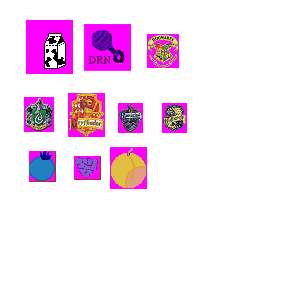 ------
Sites for Tattoo Images
www.penshaw-pineapple.co.uk/milk/
Elouai's Doll Maker
Deviant Art
------
This resource is compiled from threads in the hexing help area!