Post by Erica ☮ on May 22, 2014 14:55:42 GMT
I originally made this little tutorial for Ainsley. But I've noticed a few people have issues with FTP. Which is fine! You're totally not alone. I was super intimidated by FTP for years. But it was actually really easy to figure out. This is a tutorial for the FTP client FileZilla, which you can get here:
filezilla-project.org
. You're free to use another FTP program. I would assume they're all relatively similar.
Anyway, so after you install FileZilla, open it up. Using your login info from Jen you'd login this way: where it says host, you'll put the ftp.heart.nu in host, next your username, then password. You can ignore port. Then hit Quickconnect.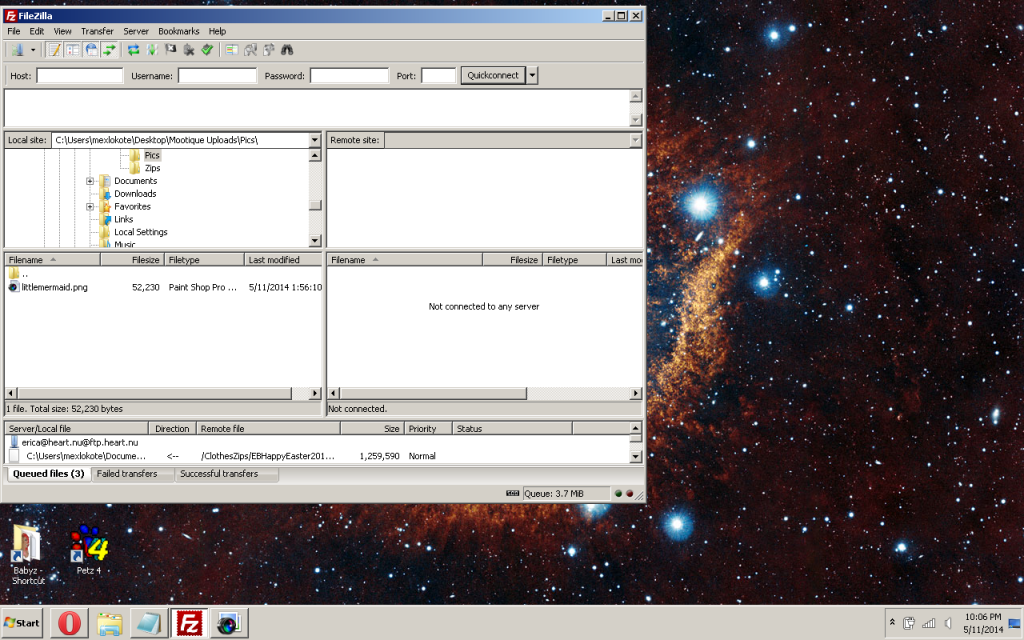 Over in the box on the bottom right, you'll see the pre-made HTML files Jen made for you. Drag and drop each one to your desktop (or another folder), and now those premade HTML files are saved on your computer. You can open it in Notepad and some other HTML editor to edit it, and when you're done, just hit save. I'll get to uploading it in a minute.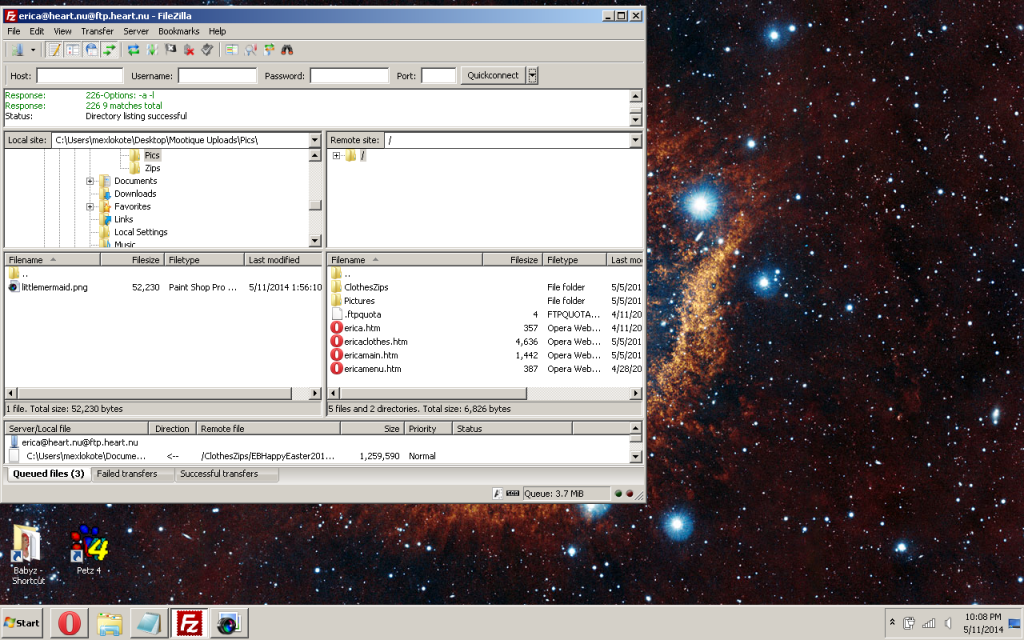 Now you see in the box on the top left? That's your computer's directory (I'm sure you've probably figured that out. lol), and when you want to upload a file, like say the edited HTML file, or an image or zip file or whatever, locate that folder on your computer. When you open a folder, all the folder's files will appear in the box below it. Right click the file and hit upload (or you can double click it) and that will upload it. It'll appear on the list in the box on the bottom right.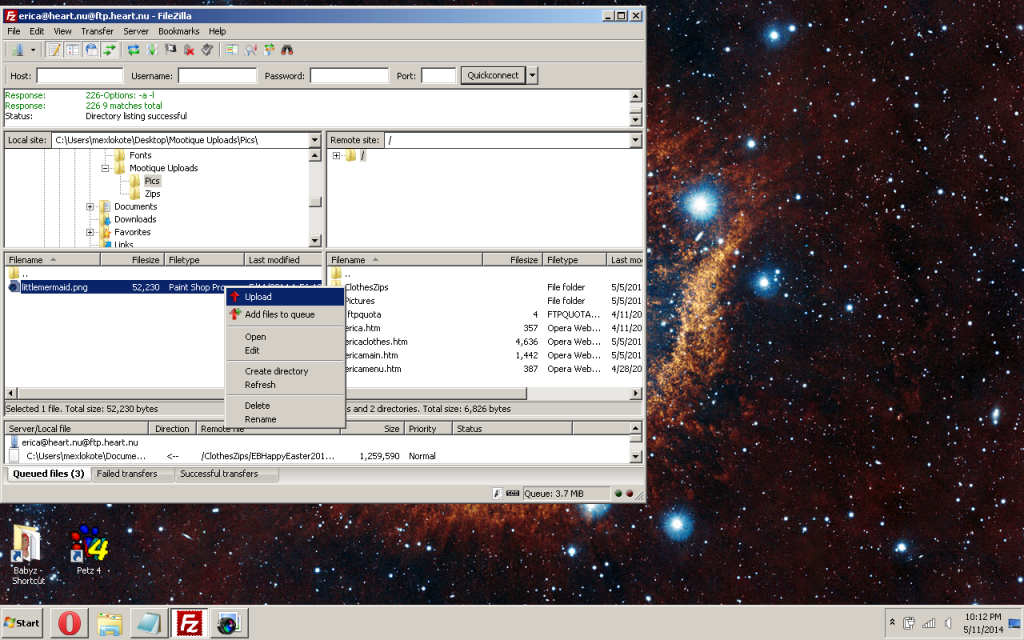 When you change and save your html files in notepad, you'll have to reupload them for everyone else to see the changes made. When you do that, upload it like I said above. But this time it'll ask if you want to overwrite it. Hit ok.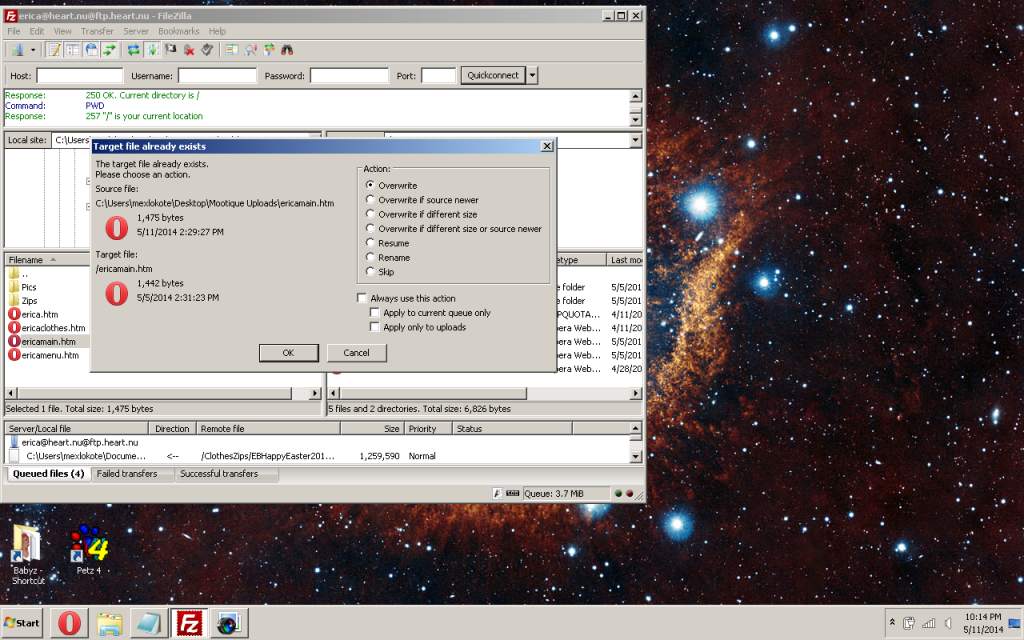 And that's pretty much it. You can create more folders to organize your mootique files by right-clicking and hitting create directory.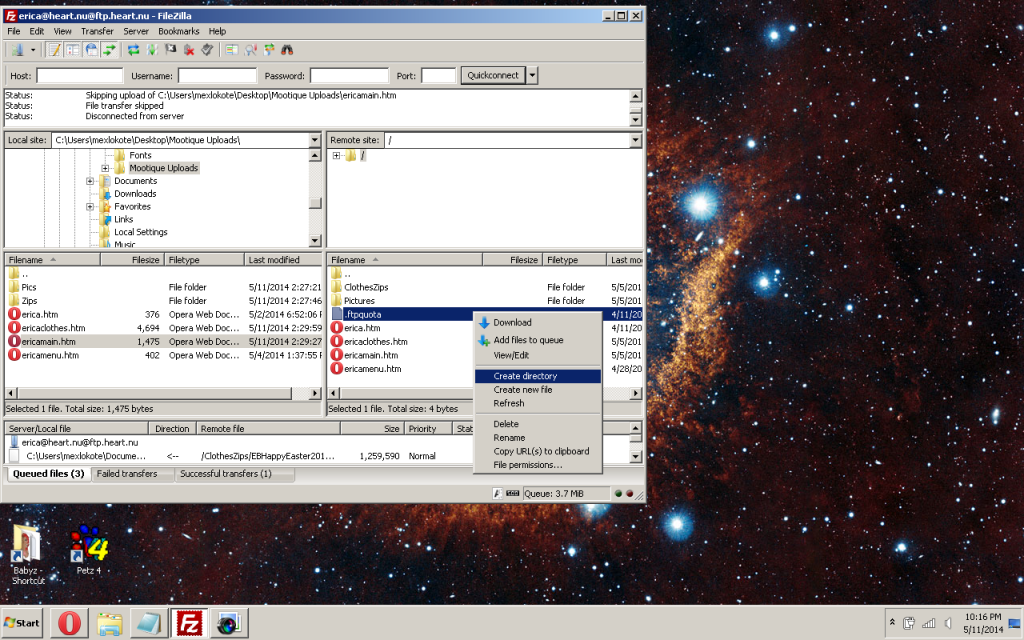 I was most confused about the URL for my links. This is what it would be:
www.babyz.org/mootiques/yourname/imageorzip.file
OR if you've created more folders (like I have zips and pictures), it'd be:
www.babyz.org/mootiques/yourname/foldername/imageorzip.file
So when you're doing your HTML, those are the URLs you'd use. And I think that's really just about it. Once you login once, you won't have to type your login info every time. You can click the little arrow next to Quickconnect, and your login info will come up on the menu.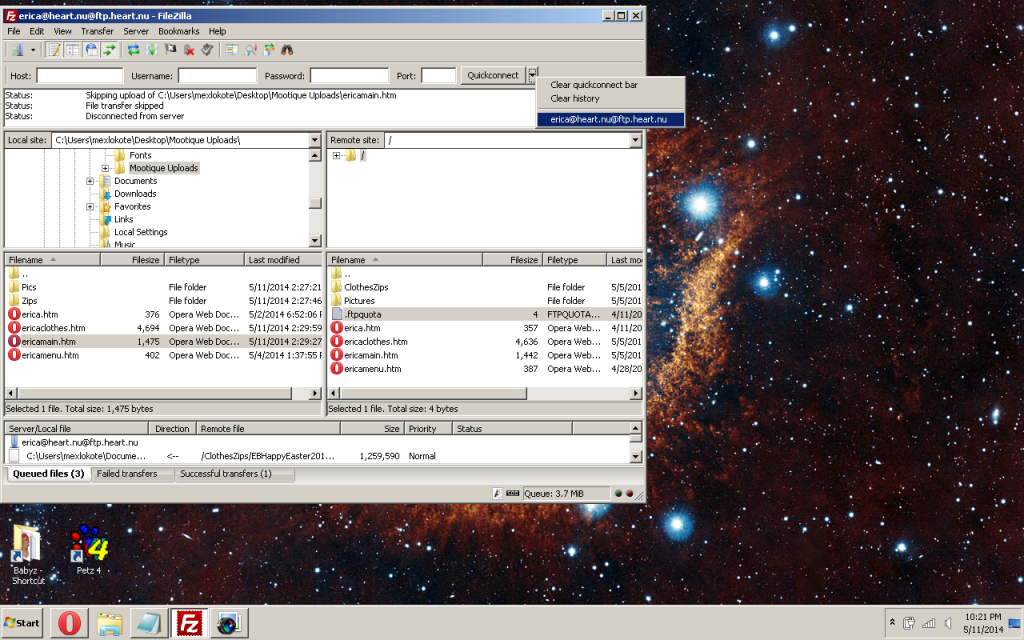 Just click it and you'll login.

Any other questions, just ask! I was SUPER intimidated too, but this is way easy and I don't know why I haven't been doing it the whole time! lol