Post by lobb on Jan 2, 2023 14:09:55 GMT -5
Lobb's Hexing Archive
Welcome to my hexing archive!

Fuzzy Plushies
These are babyz in the style of my baby Nanai, who was in turn vaguely inspired by Monchichi toys
like this
.
Nanai (old design) was my first-ever babyz hexie! I got the hairstyle from Sami and the fur texture from lacey.
Nanai's new design happened because I accidentally messed up her LNZ and had to remake her. I gave her a little gemstone heart belly tattoo and made her new hairstyle myself to fit her better. Her fur texture is still from lacey

This is a hexie I made for Rylan. The haircode is from jamie, fur texture from lacey, and ear codes from aleisha. She was initially going to look very different (ears on top of the head, custom whiskers etc.) but that would have looked weird with the chosen haircode so I opted to keep it simple. Her freckles match her hair! <3
Monster Mash
This is a section for babyz who don't look very human.
This is Syd! I really wanted a swamp monster baby and this was the result. I made the fin codes myself and they consist of linez with polygonz. The texture in the fins is by alena@moonflower. The scales texture is an extracted Oddballz texture (downloaded from Mazzlabs) and recoloured by me. I'm pretty pleased with the results! Thank you Babyz Discord and Thor for their useful tips and troubleshooting
(I'll add more details soon, hopefully)
This is Perla! I really wanted to make double fins
She was a hattie. he main texture is an Oddball texture I got from mazzlabs and edited. The shiny bits in the fins/eyes are a texture from gyiyg @ polygondwanaland.
A cute (to me) sheepdog baby I made! He was initially meant to resemble Shep from Animal Crossing, but then I added my own tweaks. I'm really happy with how he turned out! You can see some of the steps I went through in making him
here
. His hair textures came from the PKC furfile archives.
This is Angus! I made him for the Back to Basics 2023 hexing context. You can see the entry (and more info)
here
. The design is based on highland cows. The fur texture is from lacey and the hair texture is from the PKC furfile archives and then tweaked a bit by me. I grabbed the clovers from
here
. I have no idea where the belly tattoo is from, unfortunately, though I tweaked it to work better as a tattoo. The "full head of hair" code is by Natalie.The coding for the fringe, horns, ears, etc. was all by me. As you can see, he changes as he grows! Fun fact: I wanted to give him a flower crown, but it was looking waaaay too cluttered so I stuck with some cute, pasture-y clovers on his hair.
Almost Human
This section is for babyz that look mostly human!
This is Noodle! She actually went through a few different looks, which I kept track of in her room
here
. She's vaguely based on some milk snake colour morphs and her eye makeup has a scaly texture. The scale textures are from oddballz (extracted and found at mazzlabs) and recoloured by me. The hair textures are from lacey. The original hair was from Jamie, though the remade version is mostly by me (the longer strands are the one found in Jamie's style but the positions etc. were entirely changed, the fringe is mine). The "full head of hair" code by Natalie was also used.

Thanks to aleisha for the eye tattoo/makeup tutorial!
This is the growing baby I made for the Back to Basics 2023 event. I was aiming for a baby in a style cuter than my usual one but still distinctive. The gemstone textures are from gyiyg @ polygondwanaland, the glittery texture is by angelica, and the hair texture is from lacey. The head flower is by aleisha and lacey
here
, changed into a body part with permission. The wings code is from Riley and can be found
here
. I used Natalie's full head of hair code combined with a hair code from Jamie and then edited by me (to keep just that little front strand). I don't know where the flower is from! I need to come back and triple-check these credits because I can't find the file where I wrote it all down.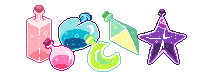 Experimental Babyz
These are babyz I've made as experiments that haven't necessarily worked out.
A baby based on the Alley Catz from Petz

Thank you to Angelica for helping me get the fish baubles to work, lacey for the hair texture, and people on the Discord for helpful suggetsions and tips! I made the hairstyle myself. I kind of like it but feel like this baby is sort of lacking... something. I don't know. I also want to edit her personality to make her more alley-like.
I was playing with transparent .bmp heads and this just happened

The fur bmp is from lacey.
A Keroppi baby. Not much to say, really. I've made a variant frog for myself sort of based on tree frogs. The Keroppi version is downloadable in my Mootique. You can follow much of the awkward process of trying to make a frog baby
here
.
I kind of wanted to make a baby that looked like a magical foresty creature. I might go back and finish working on it, I don't know. The ears are from aleisha's thread.

I tweaked the cheeks to make the face rounder and overall fuzzier. I want to make some transparent .bmps to add whisker eyebrows, maybe some stuff on the head as well?
I was given the challenge of trying to make a baby based on Bunnie from Animal Crossing. Some things do NOT work well in Babyz!
I made the ears myself, the orange-red-y .bmp is from Angelica's site.
Credits:
perfume bottle pixel from
here