Post by Jordyn ✬ on Oct 23, 2016 22:35:12 GMT -5
Guysssss. So my brother, George, was always into coding and making programs and I've been wanting to learn forever (but I'm so lazy). But for the last few weeks I've been thinking of programs that would make hexing a little bit easier for me (and maybe others). I know there have already been things like Brynn's Spotting Utility and maybe some others for making freckles? I've never used them though and I don't know how main stream they were- or if they were even made FOR Babyz.
Anyways, my brother helped me create (and by helped I mean coded 99%) of a new hexing utility which I've dubbed the GJ Freckle Generator. G for George and J for Jordyn because basically I came up with what I wanted the program to be and he was the one who made it actually work, lol.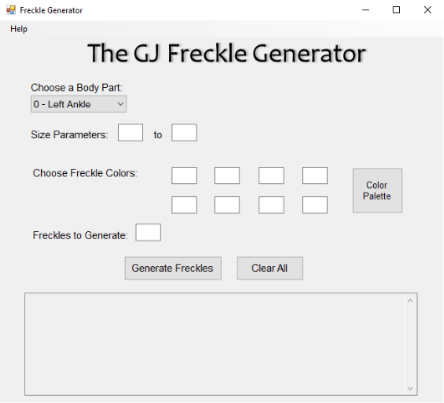 So this is basically what it looks like! Shrunken down obviously. You can choose the body part you want to add freckles to, the size you want the freckles to be on that chosen ball (between like 4 and 8 for example), and between 8 colors to be randomly chosen between (you can use less than 8 if you want). Then you just type in the amount of freckles you want generated for that ball and click generate! The positions are all randomized. You can create a whole freckle code in about 2 minute!. Once you generate for the first ball, just select another one (and you can change the other variables) and click generate again to have it add more to the code below. Once you're done you just select everything in the box below and paste it into the baby file for instant freckles!
Nose freckles are not an option because like the nose is made up of several different balls and it would have been kinda weird to do. Plus I usually just use a bmp for nose freckles myself :x
Also, the Babyz color palette is inserted into the program for easy access (I got the image somewhere I can't remember or I'd credit). And there is a help thing in the top menu that explains what each of the variables means even though I just did the same thing in this thread basically, haha
Here is a quick example of a very freckly baby made with the generator!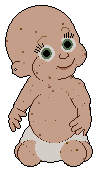 Basically, I figured I'd put the program up here for people to test out and let me know if it works for them? Or any feedback or problems you run across. You need Windows to run it:
www.mediafire.com/file/jq7gkiqlll2w5f3/GJ_Freckle_Generator.zip
Let me know if you like it! I'm slowlllyyyy learning to code myself, and with George's help, I'm really hoping to make more programs in the future! <3